This post brought to you by Cooper Tire. All opinions are 100% mine.
Summer is coming up and right now is a great time to make sure your car is operating in its best condition. Our family always likes to plan a trip to somewhere we can all experience for a lifetime. We have considering making the big family road trip to the Grand Canyon and through the state of Arizona to visit old ghost towns, caves and other historical and beautiful places.
Making sure our SUV is safe and sound by keeping up on maintenance will not only keep us on the road with no problems what so ever, but it will also improve that ever important MPG. Seriously, gas has gone up 30 cents in the last month. With the driving we do down here in Southern California, getting the best gas mileage is important but also staying safe on those high speed highways is more important.
Maintenance includes more than just oil changes and other parts replaced, but that tires are in perfect condition and have the tread needed to keep you on the road as well as them being properly inflated and worn properly. Making sure tires rotate the smoothest reducing drag and force, vibrations and wear on parts, reduce load on the engine making it work harder, but also vibrations on the car, the engine work harder, drinking more gas.
Right now Cooper Tire is offering Cooper Tire Rebates an $80 Visa® prepaid card now during their "Spring Savings Event" with the purchase of popular passenger and light truck tire lines. Also don't miss out on a chance to win a "Roll With Cooper" prize pack to help families and travelers starting those road trips this spring and summer season.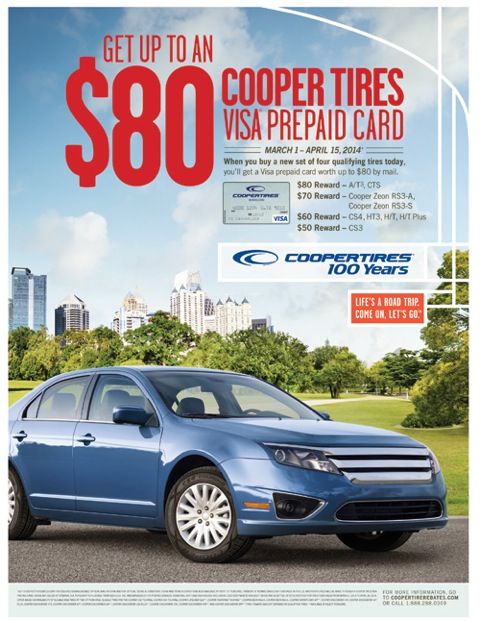 Cooper is helping to spread the joy of life's everyday road trips by giving away $1,000 prize pack sweepstakes. Visit Cooper Tire on Facebook and post some of your favorite moments of your everyday routines and travels in your car and tag #RollWithCooper on the Cooper Tire Twitter or Instagram page and be entered into the Grand Prize drawing for a gas card and Cooper merchandise. Share your moments with a message and tag it with #RollWithCooper and let everyone know what you like to do, like singing along to those favorite songs, or using FastTrak (California Drivers know what I mean), or taking advantage of the carpool lanes, maybe the carpooling to school or commuting to work, share it! Just no selfies while driving!!!
Running now through April 15, the Spring Savings Event will not only put a little extra spending money in your pocket but also make sure your car is safe as can be, remember its only rubber between the car and the road. So having safe tires is important. Think about what you could or would you do with that $1,000 prize pack if you won?
Check out your local participating dealers to see eligible products and to get the full terms and conditions along with a mail-in reward form or visit coopertirerebates.com.